What is hydraulic hose crimper?
Hydraulic hose crimper is one machine for pressing hoses with fittings to be hydraulic hose assembly,when the hose was broken,people use that machine to repair the hose.The operating principle is transfer the electricity to hydraulic force,when you turn on the power,the hydraulic oil flow through the oil pump to produce the force,the force push the crimping base begin to gather together,because of the big crimping power,the fitting could be pressed on the hose,and firm in structure.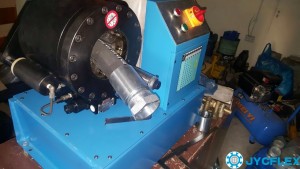 Normally one electric crimping machine is made up of several parts,the main parts include the crimping head,machine body,electrical motor,oil pump, solenoid value,overflow value,micrometer,dies and so on.Some suppliers add other attachments for assisted,such as quick change tool,pedal, hydraulic pressure indicator.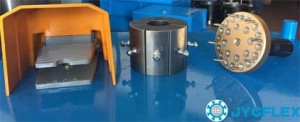 There are many types of the hydraulic hose crimpers. The main difference are crimping range and crimping force.The greater the crimping range,the more the cost.The crimping range of the crimper from 1/4'' to 2'' are the common used.We could also classify the hose crimper from the usage,the electric hose crimper,manual hose crimping machine,12V or 24V battery hose crimper.
This type of press machine could also used for crimping the wire rope,fire hose,air suspension and so on.People have many names for the hydraulic hose crimper,some people are used to call it hydraulic hose crimping machine or hose crimping machine,also it could be called hydraulic hose crimping tool,hose press machine or hose swaging machine,all the name are refer to hydraulic hose crimper.